Last week I was camping with my family at the Chickasaw National Recreation Area - Point Campground, which is located near Lake of the Arbuckles (aka Arbuckle Lake) in Murray County. This area lies in the EPA Level III "Crosstimbers (29)" ecoregion and the Level IV "Northern Crosstimbers (29a)" ecoregion, which is the same ecoregion as my most common moth night location near Lake Thunderbird in Cleveland County.
The weather was pretty mild for this time of the year. I did have my lights set up one evening and then took them down before doing any observing because a storm rolled through and the wind picked up considerably. I was able to set up my lights and observe moths on 4 nights (June 4, 5, 8, and 9). I left my lights on overnight, so my daily counts include the morning-after photos when I woke up and checked the sheets. Moths seen in the morning are added to the previous night's tally. I kept a tally of all moth species seen the first night, then additional moths each subsequent night.
June 4: 106 species
June 5: 27 additional species
June 8: 9 additional species
June 9: 32 additional species
Total count: 174 species
It's kind of rare for me to spend more than 2 nights with lights set up at a location, but when I do I prefer this method of recording additional new species after the first night. It would be much too cumbersome and time-consuming to generate a complete species report for every night. My list is partly generated as I see the moths and partly through subsequent processing and identification of photos.
The most common moths were:
White-dotted Prominents (Nadata gibbosa) - I actually counted 38 of these at one time.
Yellow-based Cacozelia (Cacozelia basiochrealis)
American Dun-bar (Cosmia calami)
Delightful Dagger (Acronicta vinnula)
Little Nymph Underwing (Catocala micronympha)
Shagreened Slug Moth (Apoda biguttata)
Significant finds for me were: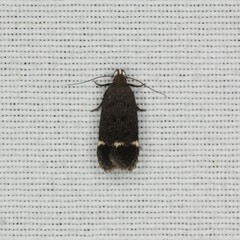 Lupine Leafroller (Anacampsis lupinella)
Non-moth observations:
My wife and I were able to go on some daytime forays at the National Recreation Area, but also to the Chickasaw Cultural Center, and the Blue River Public Fishing and Hunting Area. There were lots of flowers in bloom, including Blanketflowers (Gaillardia pulchella), Black-eyed Susans (Rudbeckia hirta), and American Basketflowers (Plectocephalus americanus). We saw a few Texas Brown Tarantulas around the campground.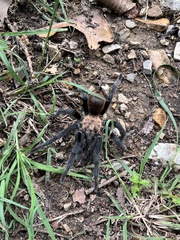 Texas Brown Tarantula (Aphonopelma hentzi)
I found a longhorn beetle which was new to me.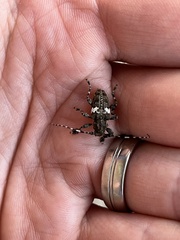 Aegomorphus quadrigibbus
I got to go on some hikes with my wife and we ran across multiple Mexican Yellow butterflies, which were new for me. I also saw my first ever Soapberry Hairstreaks!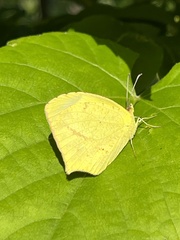 Mexican Yellow (Abaeis mexicana)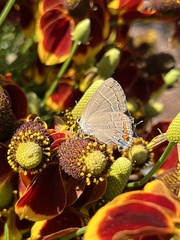 Soapberry Hairstreak (Phaeostrymon alcestis)
On my last full day in the area I went out on a search for larvae of Frosted Elfin (I previously wrote Henry's Elfins by mistake). This is a species of special concern in Oklahoma with a very limited distribution, which includes Murray County. I knew that I first needed to locate the host plants, Yellow Wild Indigo. I found a lot of the plants, which I considered a success all on its own.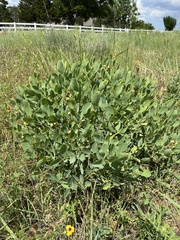 Yellow Wild Indigo (Baptisia sphaerocarpa)
I ended up finding more than a dozen larvae of the Genista Broom Moth on these plants, but no Frosted Elfins. I think I will plan to visit this same area next spring when the butterflies should be in flight and laying eggs to see if I can find some then.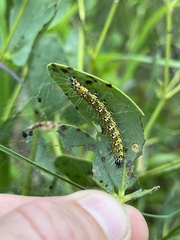 Genista Broom Moth larve (Uresiphita reversalis)

Publicado el
15 de junio de 2023 21:37
por

zdufran